Transforming the pedestrian experience around the site
The proposals unlock new station entrances and improve road crossings and pedestrian flow.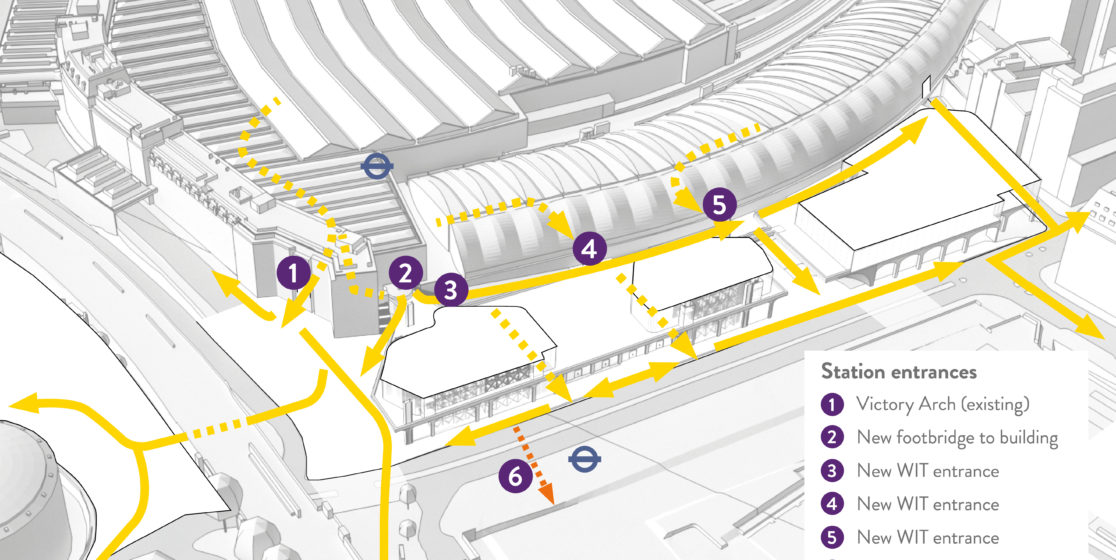 Currently, Waterloo Station footfall is highly concentrated through Victory Arch. This
will remain the case when the new station entrances open at Waterloo International Terminal as the existing Elizabeth House blocks direct access to York Road.
In line with the aspirations of Lambeth Council, the GLA, TfL and adjoining landowners, our proposals will bring pedestrians to ground level and transform the pedestrian experience around the site. This will be achieved by spreading the flow of congestion, making it safer to cross York Road people across a much larger area, reducing and creating new areas of public space for people to enjoy.
At the crossing at the north of the site next to Victory Arch Square, our aspiration is that this is widened and raised to curb height, creating a larger and safer crossing point and one that is more accessible for wheel chair users and those with buggies. The changes here also take into account the wider changes being made to the Waterloo Gyratory, which will help to reduce the speed at which vehicles approach this crossing.
There will also be a new southern crossing, close to Chicheley Street, which will be similarly raised to curb height. We are looking at the potential for both crossing to be phased to allow for diagonal crossing – much like at
Oxford Circus.
In addition to the crossings, the tube entrance on the other side of York Road to Elizabeth House will shortly re-open. This means that there is the option of crossing York Road through a tunnel which is below ground.
Pedestrian comfort is important to us. We are wind tunnel testing the proposed development to ensure that there are no unacceptable impacts and our Wind Tunnel Assessment will be submitted to Lambeth Council as part of our planning application.