Our vision
As the long-term owners of the site here in Waterloo, our vision is to ensure that our proposals make the best possible contribution to the local area.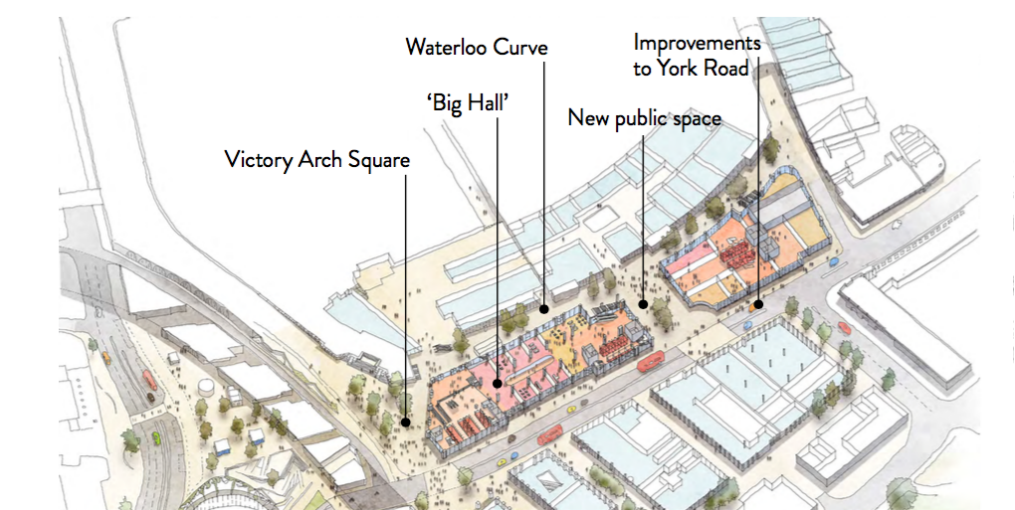 Through our proposals we expect to:
Create a beautiful new building in place of the existing Elizabeth House, providing world-class new office space supporting  approximately 13,000 new jobs.
Be of a similar height to the existing planning permission for the site whilst delivering much improved public realm and local connections.
A design which celebrates the 'architecture of engineering', with the building's structural form a core part of its visual appearance.
Provide much-needed capacity relief through improving access to Waterloo Station, which is already the UK's busiest station and is set to increase by 30 million passengers to 130 million people a year over the next five years.
Create Victory Arch Square, a major new public space better connecting Waterloo Station and the South Bank.
Deliver the 'Waterloo Curve', a new pedestrian street lined with shops and cafes which would run between Elizabeth House and Waterloo Station.
Enhance the pedestrian experience along York Road by widening the pavement, helping to better connect the site and local area to the South Bank.
Increase the permeability through the site including a second new public space linking York Road to the Waterloo Curve and to the new entrance to Waterloo Underground.
Create a 'Big Hall', a bustling and ever changing retail space which serves to create additional permeability at ground level and complements the existing local retail offers.
Provide a beautiful new garden promenade, open to the public and accessed directly from a bridge on the Waterloo Station concourse, with connections to the ground level retail offer.