About the site
Elizabeth House is located on York Road between the UK's busiest train station and Europe's largest cultural quarter at the South Bank.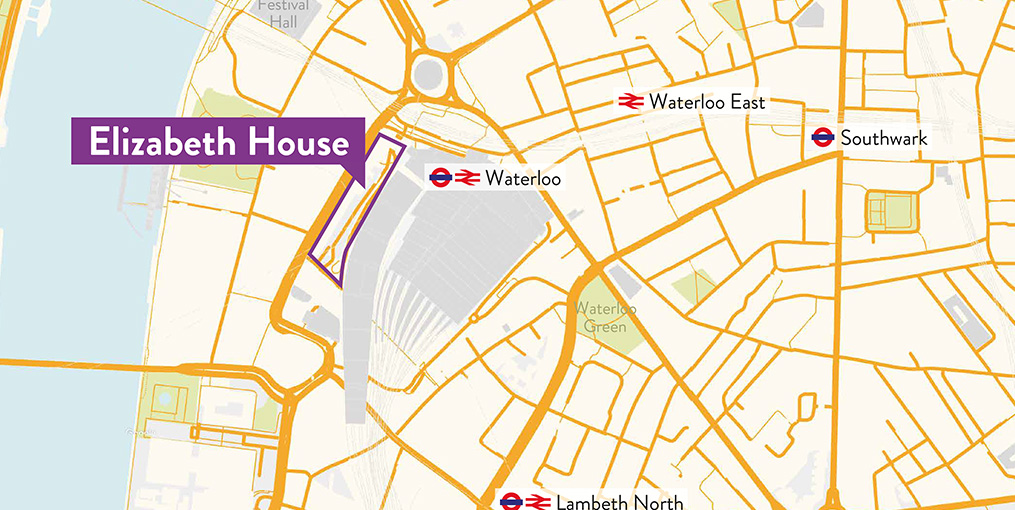 There is huge potential to deliver something really special on this site.
The site is exceptionally well connected to the rest of London and the South of England – making it the ideal location to provide a major new office building to boost Waterloo's economy.
There is the opportunity to improve access to the station and its entrances with a series of brilliant new public routes and spaces, enabling long overdue and much needed capacity improvements to Waterloo Station.
There is real potential to create significantly better connections to and from local destinations such as Leake Street and Lower Marsh and to contribute to the vibrant mix of retail and restaurant uses in the area.
Elizabeth House is only minutes away by foot from the world-famous cultural destinations on the South Bank such as Southbank Centre, the National Theatre, IMAX, London Eye and BFI.
The strategic nature of the site is recognised within the designation of Waterloo as an Opportunity Area by the Greater London Authority (GLA) and by Lambeth Council, who have designated the site to deliver a substantial number of new office jobs, along with other central London uses, to support both the local and city-wide economy.
Development on this strategic site needs to be carefully designed to meet the needs of the huge number of people who pass through or next to the site on a daily basis, and to take account of the local and city views from where it will become visible.
In this first consultation we want to make sure that we are thinking about the right principles for the redevelopment as we continue to refine our proposals.