The site and local context
Elizabeth House is located on York Road between the UK's busiest train station and Europe's largest cultural quarter at the South Bank.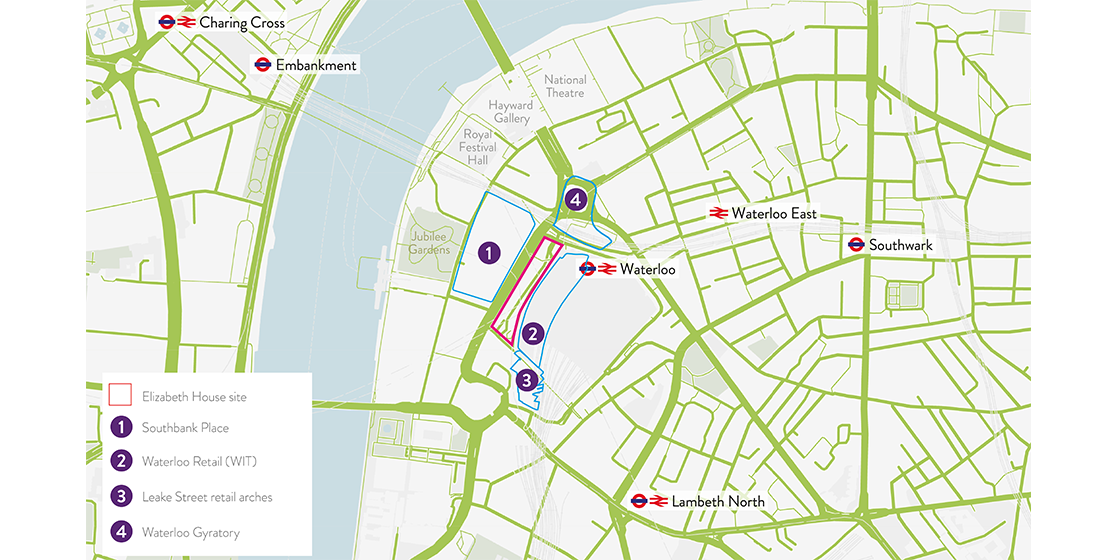 The existing Elizabeth House is an out-dated 1960s office building and desperately needs replacing. It spans unbroken for 203m along York Road and is a barrier to the new entrances being created to Waterloo Station as part of the upgrade works to the Waterloo International Terminal (WIT).
The public realm around the site is hostile and unattractive and does little to connect to the other fantastic places in Waterloo, including Leake Street and Lower Marsh, as well as the cultural destinations located on the South Bank.
There is an existing planning permission for a scheme designed in 2012, for new offices and also predominantly luxury apartments. However, the landscape has changed significantly since 2012 and we also do not believe this site should be used for this purpose when that space can support thousands of new jobs.
The plans we are bringing forward take into account a number of recent developments in the area, including Southbank Place, Waterloo Retail (WIT) and Leake Street Arches, in addition to TfL's proposals for the Waterloo Gyratory, as shown on the map to the right.