A new landmark for Waterloo
The workspaces being created would support thousands of new jobs here in Waterloo. The development would also make a real, tangible difference to the local area through the creation of new public spaces that will hugely improve the pedestrian experience around the site and create better links into Waterloo Station and to the surrounding area.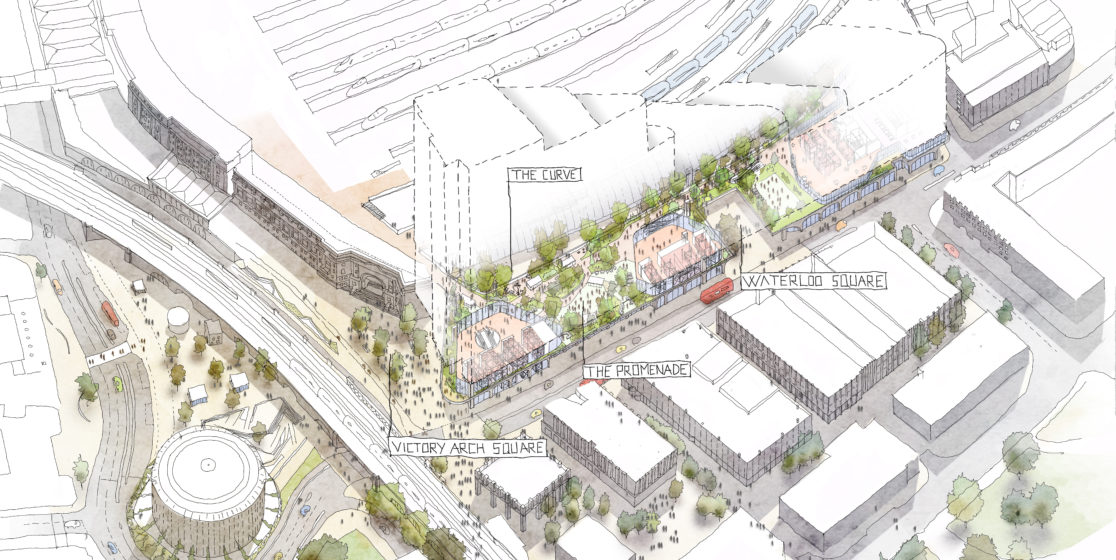 Through our proposals we will:
1. Demolish the existing Elizabeth House, which is an eyesore for Waterloo and replace it with a beautiful new building providing exceptional office space that will support approximately 12,000 new jobs.
2. Provide much-needed capacity relief at Waterloo Station by removing
the existing Elizabeth House, which acts as a physical barrier to the new entrances being created at Waterloo International Terminal, and opening up three new access points to the station along York Road.
3. Create over 1.5 acres of new public space, greater in size than Waterloo Millennium Green, including a beautiful, new, publicly-accessible garden promenade.
4. Create Victory Arch Square, a major new public space that enables step- free access from the South Bank
to Waterloo Station. In addition we also intend to improve the setting of the Victory Arch by giving it a new western elevation.
5. Create the 'Waterloo Curve', a new pedestrian street lined with shops and cafés which would run between Elizabeth House and Waterloo Station.
6. Enhance the pedestrian experience around the site, with a new crossing across York Road at Chicheley Street and a widened, safer crossing point at Sutton Walk.
7. Maintain a similar height to the consented scheme whilst delivering much improved public realm and local connections.
8. Deliver a design which celebrates the 'architecture of engineering', with the building's structural form a core part of its visual appearance.
9. Provide flexible retail space which can be configured to meet future requirements.